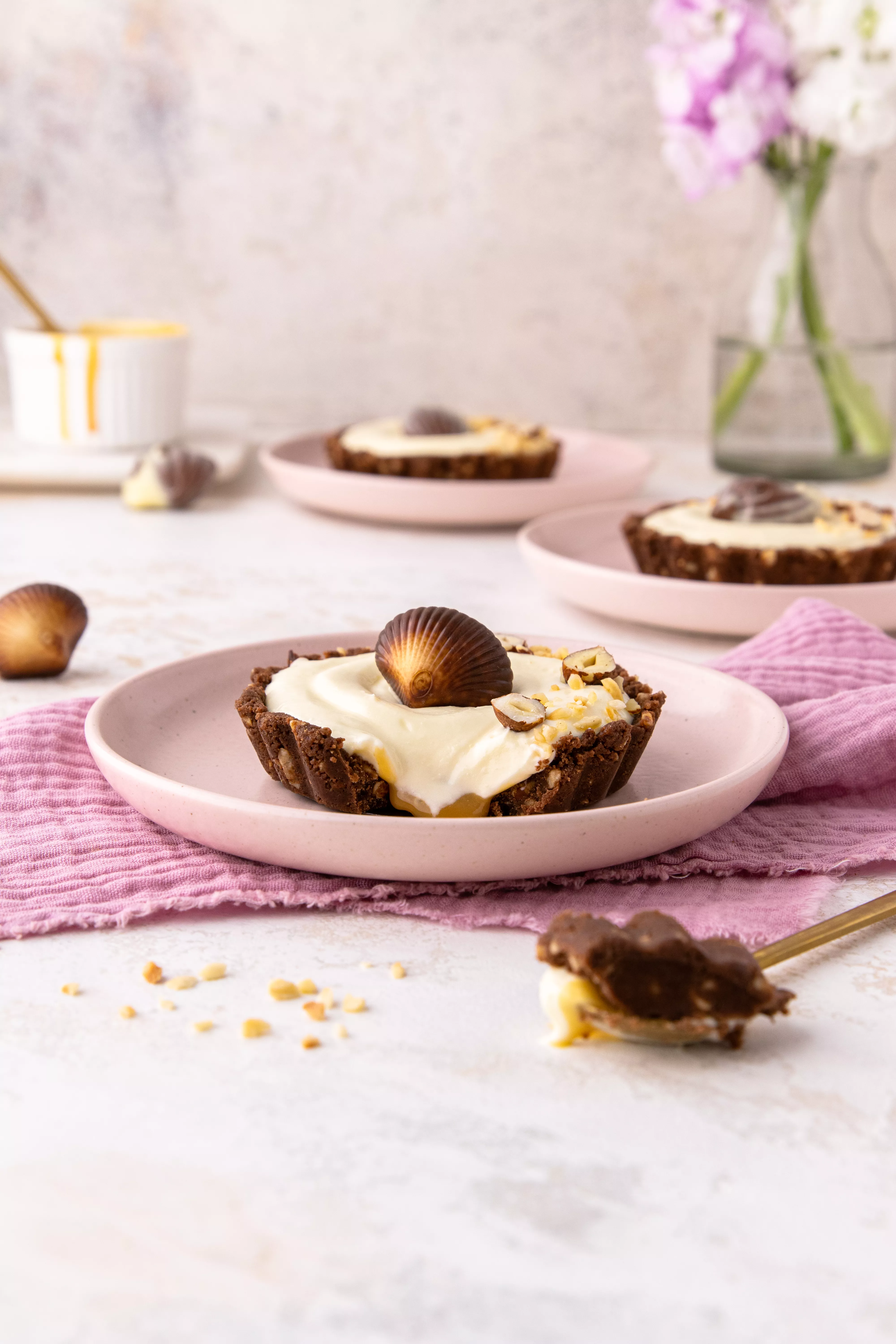 Chocolate salted caramel cheesecake tartlets
Introducción
These individual cheesecake tarts may look impressive, but they are surprisingly easy to make. The base of the hazelnut chocolate cake is the ideal combination with salted caramel sauce and chocolate cheesecake. For the perfect finishing touch, the cakes are decorated with a Guylian chocolate Sea Shell.
Ingredientes
FOR THE CHOCOLATE BISCUIT BASE:
40g unsalted butter (melted)
FOR THE SALTED CARAMEL SAUCE:
20g unsalted butter (at room temperature and chopped into chunks)
50g double cream (at room temperature)
FOR THE WHITE CHOCOLATE CHEESECAKE FILLING:
200g full-fat cream cheese
Preparación
FOR THE CHOCOLATE BISCUIT BASE:

Blitz the bourbon biscuits into fine crumbs in a blender or bash using a rolling pin.

Add the chopped hazelnuts to the biscuit crumbs and stir together.

Stir the melted butter until the biscuit crumbs are fully coated.

Divide the mixture between 4 tartlet tins (these ones are 4 inches wide) and press it into the base and sides.

Place in the fridge to firm up.

FOR THE SALTED CARAMEL SAUCE:

Place the granulated sugar into a small stainless-steel saucepan and set over low heat on the hob.

Heat gently, occasionally swirling the saucepan, until the sugar dissolves into an amber-coloured liquid. This will take between 5-15 minutes, so you'll need to be patient and resist the urge to stir the sugar too much!

Remove the saucepan from the heat and immediately stir in the chopped butter. The mixture will bubble up so be careful of hot splashes.

Now stir in the cream until the caramel is smooth, golden, and glossy.

Stir in the salt, then pour the caramel into a bowl and set aside to cool and thicken.

FOR THE WHITE CHOCOLATE CHEESECAKE FILLING:

Melt the white chocolate in the microwave in 30-second blasts, stirring after each, until smooth. Set aside and leave to cool for at least 10 minutes.

Sift the icing sugar into a mixing bowl and add the cream cheese. Mix with a whisk or electric mixer until smooth and combined.

Pour in the cooled white chocolate and whisk again until smooth.

Now pour in the double cream and whisk for 1 minute until the cheesecake mixture is thick, creamy and holds its shape.

TO ASSEMBLE THE CHEESECAKE TARTLETS

Take the biscuit tartlets out of the fridge.

Fill the base of each with 2 teaspoons of salted caramel.

Either spoon or pipe the white chocolate cheesecake on top of the caramel, filling each tartlet to the top.

Place back in the fridge to set.

Just before serving, decorate the top of each tartlet with chopped hazelnuts and for the perfect finishing touch, place a Guylian Sea Shell on top.

Carefully remove the tartlets from their tins, serve, and enjoy!