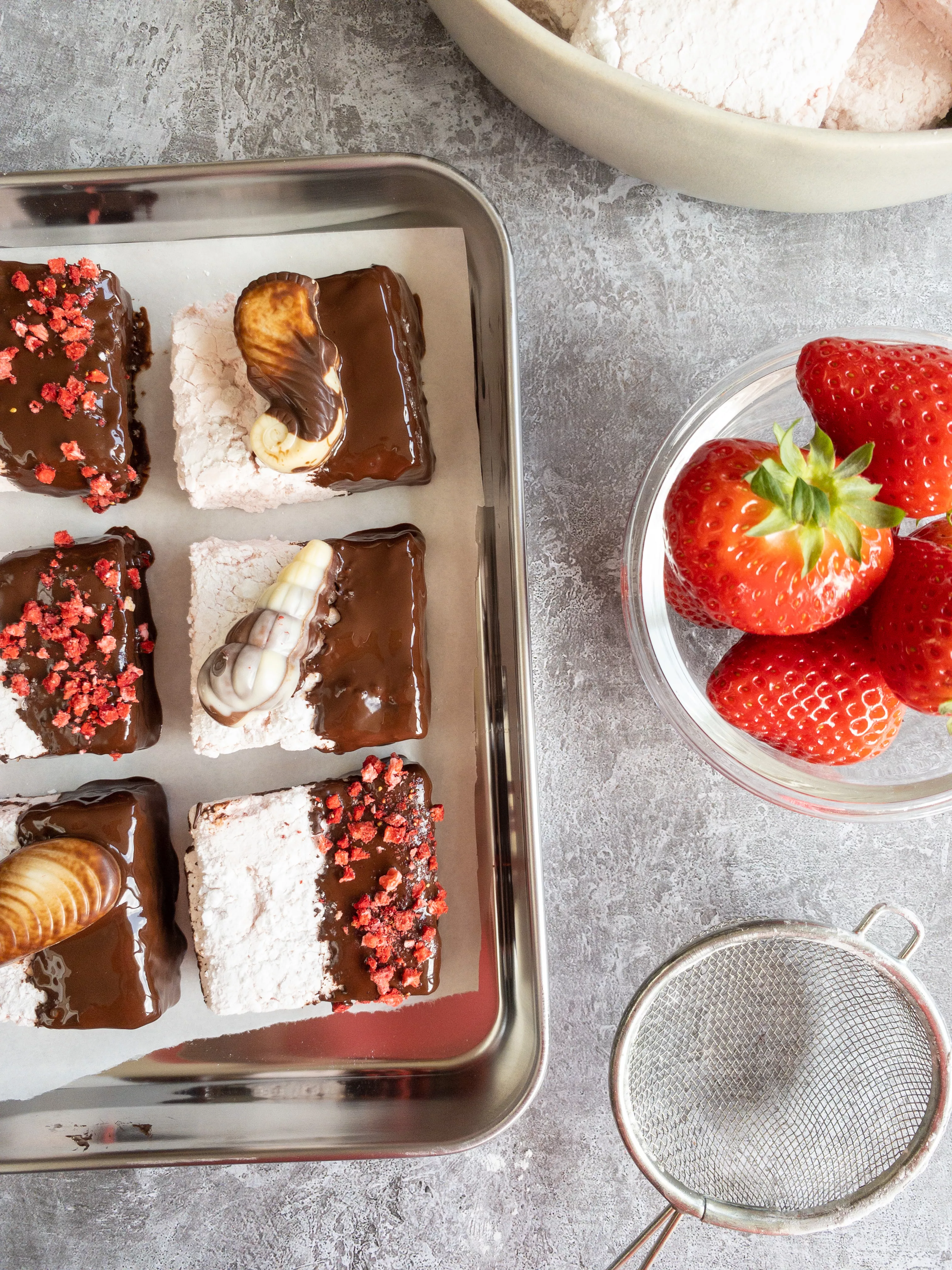 Chocolate Coated Strawberry Marshmallows
Introducción
Fresh strawberry puree is what makes these fluffy marshmallows sweetly addictive, but the chocolate coating and Guylian Seafood chocolate take this snack to the next level. Serve as is, or dip in hot chocolate for the ultimate indulgence.
Ingredientes
For the Chocolate Coated Strawberry Marshmallows:
Vegetable oil (to grease)
3 tbsp icing sugar (divided)
300g strawberries (hulled & halved)
5 platinum grade gelatine leaves
75g freeze dried strawberries
12 Guylian chocolate Sea Shells
Preparación
For the Chocolate Coated Strawberry Marshmallows:

Lightly grease and line a 20 x 30cm tin with non-stick baking parchment.

Sift together 2 tbsp icing sugar and the cornflour and use to dust the inside, shaking excess back into the bowl - you will need this later.

In a medium saucepan, combine the strawberries with the lemon juice, vanilla and remaining 1 tbsp icing sugar, cooking gently until soft and juicy. Strain through a sieve into a bowl to remove the seeds then return to the pan and cook, stirring frequently, until thick and jammy, 3 - 4 mins more. Transfer to a bowl.

Fill a small bowl with cold water and add the gelatine leaves to soak.

Place the egg whites and 1 tbsp caster sugar in a stand mixer and whisk to soft peaks.

In the same pan as you made the strawberry puree (no need to wash it out) combine the caster sugar, golden syrup and 150ml water. Heat gently until the sugar is dissolved, then bring to the boil and cook steadily until the mixture reaches 125C on a sugar thermometer. Remove the pan from the heat.

Working quickly, squeeze the water out of the gelatine and stir into the sugar syrup. Turn the motor back on the eggs and pour in the hot syrup. Add the strawberry puree and continue whisking until the mixture is glossy, thick, and tripled in size (3 - 5 minutes).

Scrape the mixture into your prepared tin, smooth flat, and leave to cool completely. Once cool, cover with cling film and leave to set (4 - 6 hours).

Once firm, dust a chopping board with the remaining icing sugar mixture and turn your giant marshmallow onto it. Peel off the parchment paper and use a sharp, lightly greased knife, to cut into squares before tossing in the icing sugar mixture.

For the Finishing Touch:

To decorate, line a tray with baking parchment. Melt the chocolate and allow to cool slightly. Crush the freeze-dried strawberries in a pestle and mortar.

One at a time, dip half a marshmallow in melted chocolate then either into the crushed strawberries or top with a Guylian chocolate Sea Shell. Place on baking parchment and leave to set firm.