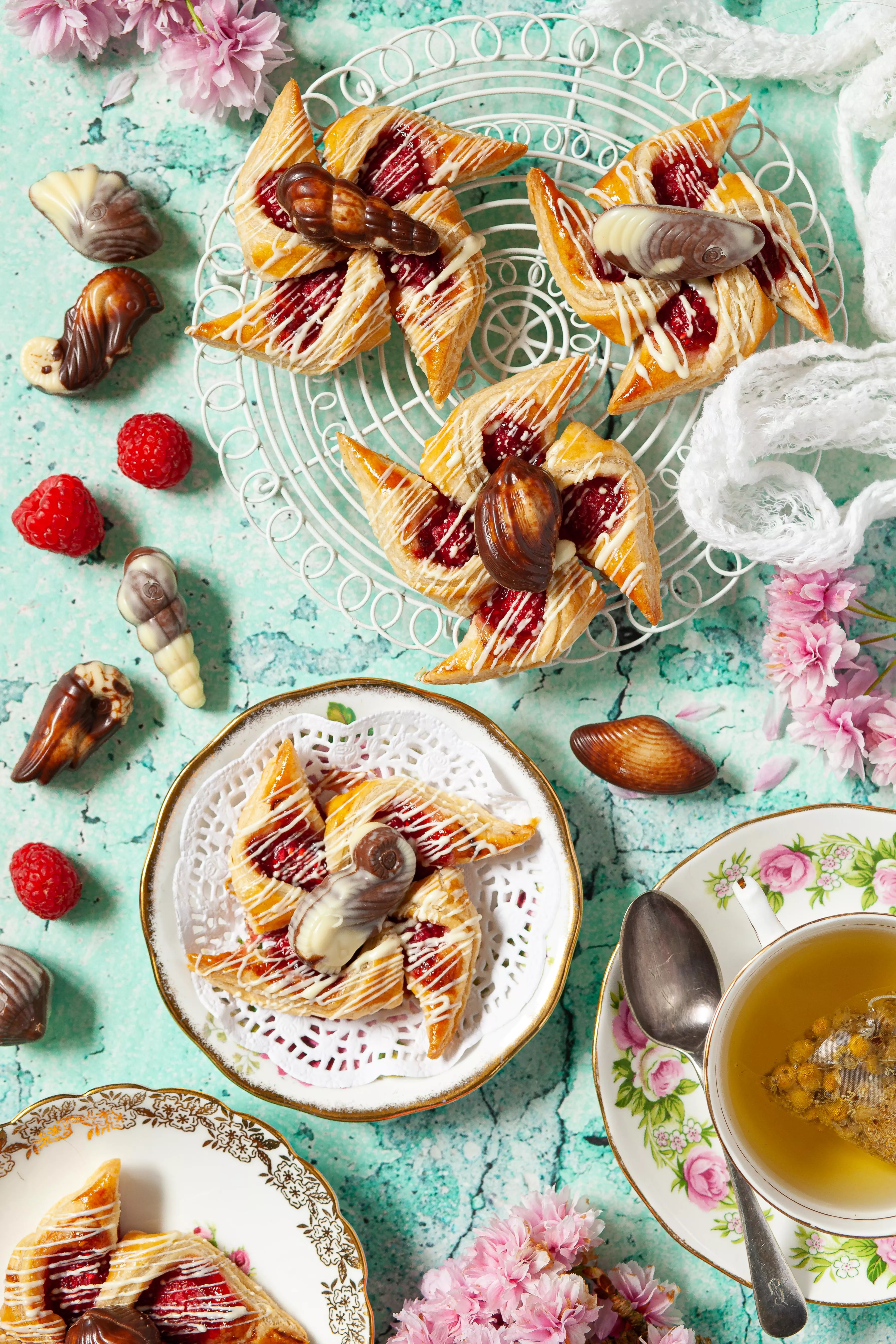 Intro
Brighten up your day with these simple yet impressive raspberry wicks. They are much easier to make than they look and are also very tasty due to the combination of raspberry and the Guylian Seafood chocolate.
Ingredients
For the Raspberry Pinwheels:
500g puff pastry (either store-bought or homemade)
24 fresh raspberries (please do not use frozen berries)
A little beaten egg (for glazing)
Remarks
For the Raspberry Pinwheels:

Preheat your oven to 180C and line 2 baking sheets with baking parchment.

Divide the pastry into two and, on a floured worktop, roll one piece out into a rectangle (approximately 16cm wide by 24cm tall -if your edges are wonky just roll a little wider and trim to size).

Cut the rectangle in half lengthways then cut each strip into three. You should end up with six squares of pastry each measuring approximately 8cm x 8cm.

Repeat with the remaining piece of pastry.

Take one square of pastry, spread ½ tsp of the jam over it, then use a sharp knife to cut diagonally from each corner to approximately 1cm from the centre.

Rip two raspberries in half and lay the pieces on the pastry, midway between each cut.

Fold one corner from each piece you've cut into the centre, pressing it lightly over the raspberry half as you do so.

Repeat with the remaining corners.

Transfer to the baking sheet (use a palette knife to help).

Repeat with the remaining pastry squares.

Brush the exposed pastry lightly with the beaten egg then bake for 14-18 minutes, turning the baking sheets midway through cooking time to ensure an even bake.

Remove from the oven when the pastry looks golden and let cool completely on the baking sheets.

For the Finishing Touch:

Melt the white chocolate either in the microwave or over a Bain Marie.

Drizzle the melted chocolate over the pastry pinwheels and press a Guylian Sea Shell chocolate into the centre of each pinwheel and leave until the chocolate sets firm.

Store in an airtight container at room temperature for up to 48 hours.