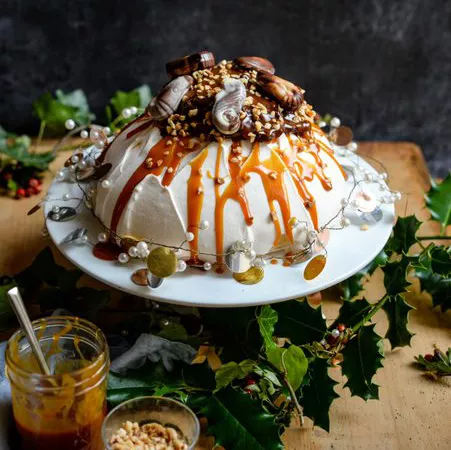 Salted Caramel And Hazelnut Pavlova
Intro
Ingredients
150g egg whites (approx. 5 eggs)
For the Hazelnut and Chocolate Chantilly Cream:
100g 70 % dark chocolate (chopped)
25g roasted hazelnuts (chopped)
Guylian Sea Shell chocolates (to decorate)
Remarks
For the Pavlova:

Heat the oven to 120C/100C fan/gas 1/2. Take a large baking tray and line with a sheet of baking paper. Draw a 15cm/6 inch circle on the paper and then turn it over so the circle can be seen through.

Place the egg whites inside the bowl of a stand mixer fitted with the whisk attachment and whisk until they form a stiff meringue. Slowly add the sugar a tablespoon at a time and whisk until the meringue is glossy, holds stiff peaks and the sugar has dissolved.

When the meringue is ready, spread it onto the baking paper, ensuring that you keep within the circle you've drawn. Use an offset spatula to smooth the sides of the Pavlova and then create a little dip in the top of the meringue.

Place the Pavlova inside the oven and allow to cook slowly for 4 hours. When the four hours is up, leave the meringue in the oven and switch it off. Allow the meringue to stay in the oven until it cools.

For the Cream:

Just before you're ready to serve the meringue make the cream. Melt the chocolate in a bain-marie over a gentle heat. When the chocolate is melted, put it to one side and whip the double cream until it forms soft peaks - be careful not to overwhip it.

Take the cream and fold it gently into the melted chocolate – ensuring that the chocolate isn't too hot, or it will melt the cream and lose all of the air. When the cream and chocolate are fully mixed, gently fold in the hazelnut liqueur.

To Assemble:

Place the Pavlova on a cake stand or plate of your choice and gently spread the cream over the top of the Pavlova. Then take the salted caramel (you can warm it gently in the microwave if you want a runnier consistency) and drizzle it over the Pavlova.

For the Finishing Touch:

Sprinkle with the chopped roasted hazelnuts and decorate with Guylian Sea Shell chocolates.