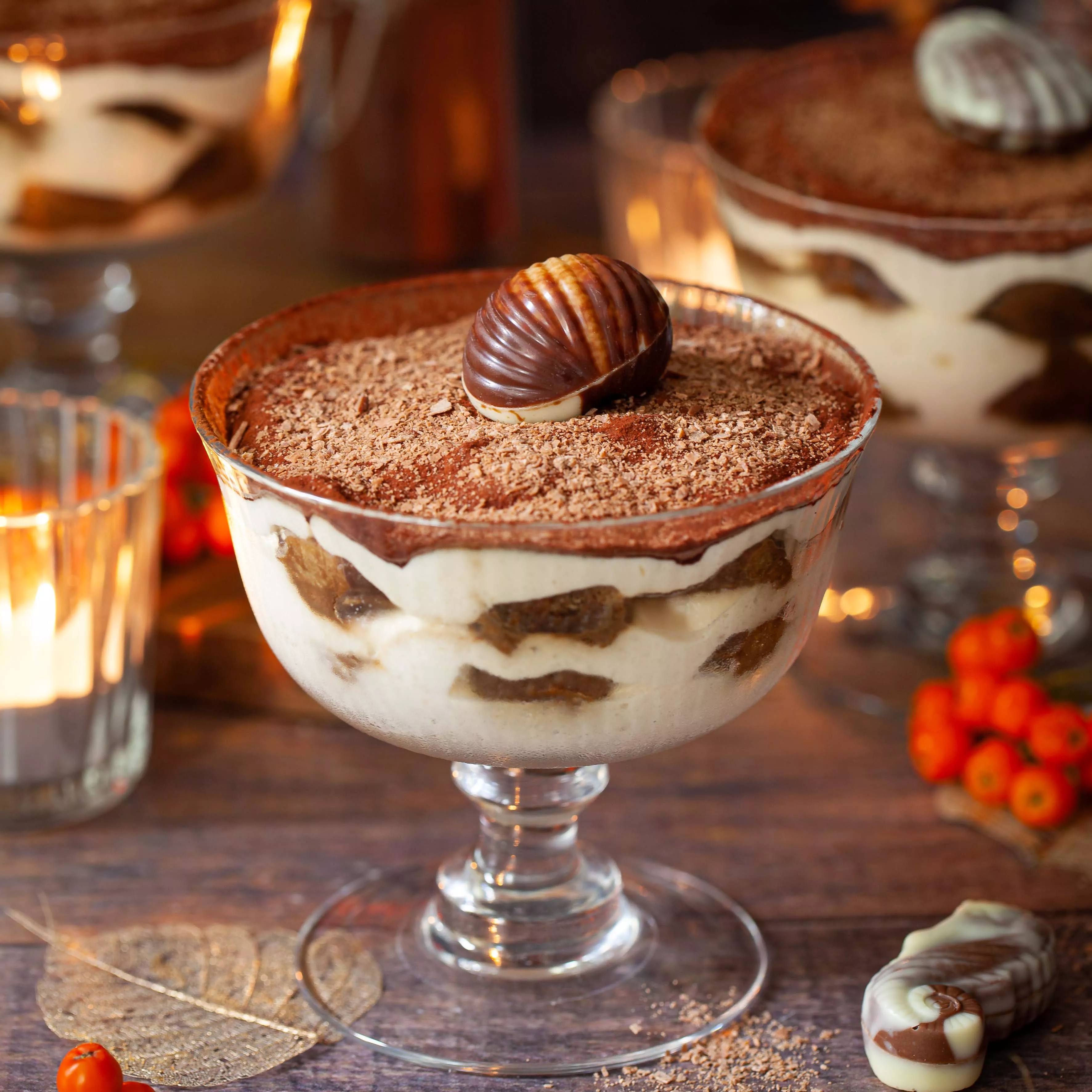 Intro
The addition of cream liqueur makes this ever-popular Italian dessert something extra special to round out a meal in the fall and winter. Topped with cocoa powder, grated chocolate and Guylian Sea Shells and Sea Horse chocolates, this dish is a great way to end the evening!
Ingredients
2 free-range eggs (large)
2 tablespoon caster sugar
250g mascarpone cheese (full-fat)
125ml strong coffee (brew 4 heaped tsp instant coffee in very hot water)
18 ladyfingers (a 200g packet will be plenty)
1 and ½ tablespoon cocoa powder
1 tablespoon grated chocolate
6 Guylian Sea Shell and Sea Horses chocolates (to decorate)
Remarks
Whip the egg whites until fluffy.

Use the same beaters to whip the egg yolks and sugar until very thick, creamy and pale. They are whipped sufficiently when a trail remains for a few seconds after the mixture falls off the whisk (this may take 4-5 minutes).

Stir the mascarpone to loosen it, then add to the egg yolk mixture and beat in until just combined (either by hand or using electric beaters on a low speed). Take care not to overbeat as the mascarpone could curdle.

Gently fold the whipped egg white in using a large metal spoon until no white streaks remain.

Spoon a little of the mixture into the base of each serving dish.

Cut the ladyfingers into pieces to fit your serving dishes as necessary.

Mix the coffee and Irish cream together in a shallow bowl then quickly dip a ladyfinger into the coffee, coating it on both sides (dip for around 3 seconds in total).

Place the ladyfinger in the serving dish. Continue with more ladyfingers until the base is covered.

Top with a little more of the mascarpone mixture then add another layer of ladyfingers, dipping them in the coffee mixture as before.

Repeat once more, spooning the remaining mascarpone mix over the top and spreading out to level it.

Cover and refrigerate for at least 6 hours, but preferably overnight.

For the Finishing Touch:

When ready to serve dredge each tiramisu generously with sifted cocoa powder then scatter grated chocolate over the top and add a Guylian Sea Shell or Sea Horse chocolate.